MEET OUR TEAM
Southwick Liquid Waste wants our customers to get the best service.  We work to hire dedicated, knowledgeable employees.  Our drivers have the certification and requirements set forth by the Nebraska Department of Environmental Quality so they are not only qualified to do the work, but they can also answer any questions you might have while they assist you.
We feel very blessed to have on staff these two employees.  They are not only excellent workers, they are excellent people too.  We feel confident that when you get the chance to meet them or work with them, you'll understand why we are so happy to have them be a part of the Southwick team. Please take the time to meet our current drivers!
BILL WEGRZYN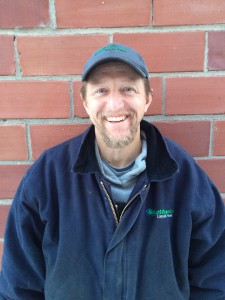 Bill is originally from San Diego, California.  He has a very diverse background and we love that he brings that to work every day.  Bill has a BA in Theatre from Whitworth College.  He works with students and adults now on a volunteer basis to use drama to teach the Bible.  He is also involved in the drama department at the school his children attend.  Bill spent a year as a missionary in the Czech Republic during which time he learned both the languages and customs of this country and several others.  He is fluent in several languages including Spanish.  For five years, he was a professional yo-yo man and traveled the world entertaining crowds with his skills.
Bill and his wife have been married for 18 years and have 6 energetic boys.  Their family is busy keeping up with the kids' activities and their church family.  In his spare time, he enjoys gardening, cooking, and reading
When asked why he likes working for Southwick Liquid Waste, his answer was that he "was always up for a good adventure!"
TRACY WEATHERBY
Tracy grew up in Rock Bluff, Nebraska near Platssmouth.   He spent about 30 years in the construction field and is extremely gifted when it comes to using heavy equipment.  His engineering and welding abilities have allowed him to create unique pieces of equipment that are useful for us in the field, but not something you can buy in stores!  (If you see our "perc-i-nator" driving around town, you'll understand the amazing handiwork we have come to appreciate from him!)  He is also a very knowledgeable mechanic with a strong background in maintenance and repair.
Tracy and his wife have been married for 17 years and are busy raising their teenage daughter and son.  Their family enjoys working together to make improvements on their property, rebuilding classic cars, and spending quality time together.
When asked why he likes working for Southwick Liquid Waste, his answer was the he "enjoys being able to do something different every day!"